SMASH! OFFICIAL DEODORANT?! (April Foolz)
As the experienced con-goers that we are, we all know the pain.
Dragging around 6 bags of merch in each hand, running from photoshoot to photoshoot from one side of the con to the other while wearing fifteen layers of cosplay and carrying props that stop you from fitting in the door, or waking up at the crack of dawn to line up in the crowd in the sun, hoping to catch a glimpse of the VIP guests.
That's why we are OFFICIALLY announcing: SMASH! Deodorant! SMASH! away the smell of con and make sure you're feeling fresh as ever with our three scents!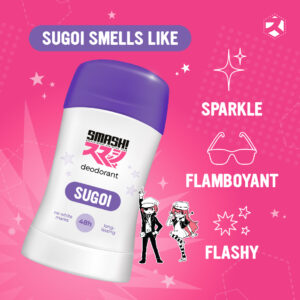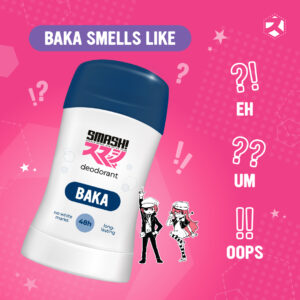 SUGOI – Sparkly, flamboyant and flashy!✨ Show off those painful hours of con crunch 😎

KAWAII – Sweet and floral🌹, lemme see your smile! 😍

BAKA – I've had 2 hours of sleep in the last 3 days💀, LOOK AT ME!!😖

COMING SOON!?!??