World Cosplay Summit Australia is back!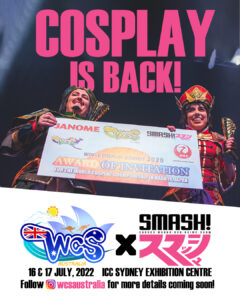 Have you heard! The World Cosplay Summit is back!
WCS Australia preliminaries will be held at SMASH! on 17th July 2022 at the ICC Sydney Exhibition Centre to select Team Australia 2023.
For more news, announcements, and Q&A's, @wcsaustralia will be launching their new discord server to connect with you next Sunday 3rd April. Time to get those creative minds to work and bring that cosplay project back on track!
#smashconXWCSAustralia #smashcon