Community Spotlight: Local Artist NotForEating
MEET LOCAL ARTIST, NOTFOREATING
We reach out to the local-Australian artist, @notforeating, where we interviewed them to see what inspires them to do what they do, creating beautiful stickers, arts, and keychains. Lee also offers custom keychains and sticker commissions too! Be sure to check their online store out at https://notforeating.com.au. 😁
1. Who are your biggest artistic influences?
I'm always being influenced by my peers on Instagram – I love seeing creators, business owners and illustrators showing off their work! Some of my favourites at the moment are @lazy._.space, @zem_yata and @yonigiri.
2. Tell me about your favourite medium?
I love digital art! I use Procreate on my iPad Pro to draw. Being able to play with effects and layer types and the ability to have lots of details is fun and allows for a lot of really cool outcomes. Other than that, I love spray paint! I've painted and helped paint a few murals and love the permanence and flow of a can. I'm a really big fan of resin art but I've never really been able to invest in doing it myself!
3. Where do you find inspiration?
I find a lot of motivation in mythology! I love to create character designs and illustrations based on themes from certain myths, especially Christian and Greek myths! I also draw a lot of inspiration from music and my favourite media.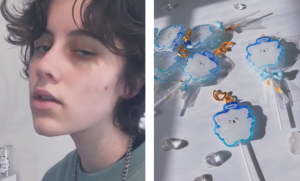 4. What motivates you to create?
The number one thing that motivates me to create is being able to share stories, pictures and products with other people! I love sharing things I've created with the world for everyone to enjoy! I also really love coming up with new ideas – I love innovation and it's one of the main things that drives me to make new things all the time! One of my favourite things to design is packaging because I love watching people experience my designs and be surprised by what they're opening.
5. Does art help you in other areas of your life?
Definitely – not only is art my business (and my source of income), it also helps me communicate my thoughts and ideas to other people. My head is always full of plans for new projects or pieces and being able to illustrate, even if it's just sketches, is a great way of documenting and expressing myself.
6. How do you define success as an artist?
Personally, success for me is when people are emotionally invested in my stories and the pieces I make. I love when people are excited about what I'm making! I also always feel proud when I see my artwork or idea realised as a physical product, because I love being able to hold and feel it!
7. What advice do you have for people wanting to create art?
You've probably heard it a million times before, but practice is really the key. Just start drawing, and try to do it whenever you can! You don't need fancy pens or tablets to make great art, I started out using random lead pencils and cheap notebooks. It might take years to develop your style but it's definitely worth it.